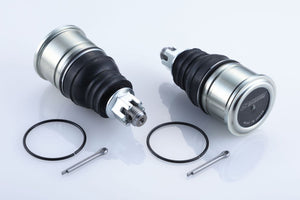 Spoon Sports Front Zero Bump Steer Kit - 92/00 Civic - 94/01 Integra
Regular price $235.00 Sale
The Spoon Sports front zero bump steer kit reduces bump steer at the time of low down and suppresses sudden toe change. As a result, the turn-in roll becomes natural and you can smoothly turn the steering wheel and back. Corrects the angle of the front lower arm, optimizes the roll center, and improves the vehicle straightness.
Note: Take note of vehicle height BEFORE installing. Vehicle height will fall about 1" after installation. Vehicle height will need to be raised back to previous vehicle height.
Vehicle alignment highly suggested after installation. 
Fitment
92-95 Civic
92-97 Delsol
96-00 Civic
94-01 Integra
For off-road use. 
DROP SHIPS FROM MANUFACTURER
Image(s) shown for illustration purposes and may not reflect actual vehicle model.