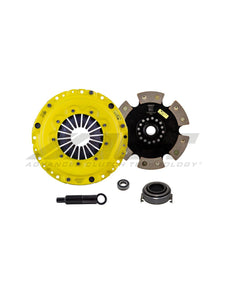 ACT Xtreme Clutch Kit w/Unsprung 6 Puck - Accord / Prelude
Regular price $574.00 $487.90 Sale
This ACT clutch kit features an Xtreme pressure plate and unsprung 6-pad rigid race disc for the most demanding driver. ACT Xtreme pressure plates use exclusive diaphragm design to increase clamp load, reduce deflection and maximize clutch life. All diaphragms endure a four-stage, heat-treating process for unparalleled performance. ACT pressure plates have precision cover stampings to provide rigidity and consistency.
ACT's 6-pad rigid race discs are made with high quality, ceramic friction materials. The chrome-moly hub is heat-treated for strength and durability. The lightweight, rigid design allows for quicker shifts and smooth, trouble-free service. With the 6-pad rigid race disc, engagement is harsher, but shifting is faster. The 6-pad rigid race disc is recommended for larger clutch sizes to absorb more heat.
Features
Unsprung 6-pad rigid race disc
Xtreme pressure plate
Moderate to heavy pedal effort, aggressive engagement, increased gear rattle
Moderate friction life, extended by ACT's exclusive diaphragm design, rigid design may increase spline wear
Carefully engineered, assembled, and balanced
Made with premium organic friction materials for heat tolerance and reduced fade
Recommended for race use only
Includes alignment tool, release bearing, and pilot bearing (or pilot bushing if K-series)
Fitment
92-01 Prelude (All M/T)
90-93 Accord (All M/T)
94-97 Accord (4CYL M/T)
98-02 Accord (4CYL M/T)
DROP SHIPS FROM MANUFACTURER
Image(s) shown for illustration purposes and may not reflect actual vehicle model.