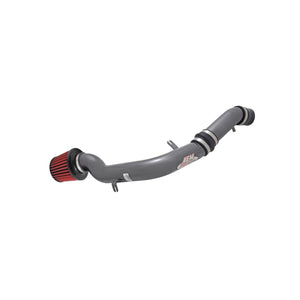 AEM Air Intake Systems (Hybrid) - Honda / Acura
Regular price $299.99 Sale
AEM is proud to introduce its Hybrid intake systems for Hondas with engine swaps! AEM Hybrid intakes are available in titanium-look powder coating only, and are the only intakes AEM manufactures that are not C.A.R.B. exempt (50-state legal).
The included DRYFLOW air filter is made from a unique non-woven polyester element that is independently tested to filter out 98.6% of airborne fine dust in initial efficiency, with an industry leading cumulative efficiency of 99.4% (cumulative efficiency is the average for the test cycle). The DRYFLOW also filters down to ONE MICRON of particulate!
Our competitors claim that as the filter gets dirty, it filters more efficiently. While this is true, what they don't tell you is that their clean filter lets dirt through until it traps enough to become efficient! Get the best filtration the first time with AEM intake systems and the DRYFLOW Synthetic filter!
See pull down menu for available vehicle and engine swap applications.Note: All AEM Hybrid Intake systems come in power coated gunmetal color.
DROP SHIPS FROM MANUFACTURER
Image(s) shown for illustration purposes and may not reflect actual vehicle model.