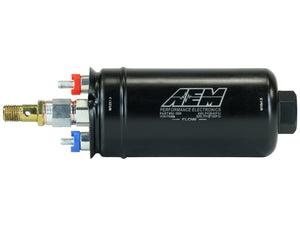 AEM High Flow 400LPH Metric Inline Fuel Pump - 044 Style
Regular price $160.70 Sale
AEM's 400lph Metric High Flow, high pressure Inline Fuel Pump (PN 50-1009) is the perfect direct replacement upgrade for 044 pump users who want more fuel flow for their high performance vehicle!
The 400lph Metric High-Flow Inline Fuel Pump has an M18X1.5 female inlet and M12x1.5 male outlet. It utilizes the industry standard "044 Style" envelope. It is capable of supporting over 1,200 HP normally aspirated and a whopping 860 HP at 30 psi boost!* It flows 400lph (105 gph) at 40 PSI, 340 lph (90 gph) at 73 PSI, and 270 lph (71 gph) at 120 PSI. Complete flow curves from 35 to 120 PSI and current draw vs. fuel pressure charts are available on the Specs tab.
The AEM 400lph Metric High Flow Fuel Pump is rated for use with ethanol-blended fuels, (E85/E90) and all types of gasoline, but pump life will be diminished if used with 100% ethanol fuels.
Features
Designed for high output naturally aspirated and forced induction EFI vehicles
Popular "044 Style" physical configuration with metric fittings for direct replacement of 044 pumps!
Maintains very high flow even at boosted fuel pressures; 340 lph @ 73 PSI (30 psi boost)
Each pump individually tested to flow minimum of 400lph (105gph) @ 40 PSI
Compatible with Flex Fuel (E85/E90) and all types of gasoline (100% Alcohol fuels may diminish fuel pump life)
Kit includes fuel pump, check valve fitting, terminal nuts & boots, instructions
Technical Specs
Weight: 35.8oz (1015 grams)
Outside Diameter: 60mm
OD External Materials: Black plated steel with laser etching
Inlet Fitting: M18X1.5 female
Outlet Fitting: M12x1.5 male
PRV Activation: 150 PSI
Impeller Design: Roller vane with ceramic end plate

VOLTAGE SPECS
Connector Terminal: 6mm stud positive, 5mm stud negative
Min Voltage Input: 10 volts
Max Voltage Input: 18 volts
Current Draw (40 psi): 9.73 amps no check valve, 10.68 amps with check valve (13.5v)
Current Draw (120 psi): 16.07 amps no check valve, 17.13 amps with check valve (13.5v)
Fuse: 25 amps (13.5v)
 *Power rating given using gasoline and assuming a base fuel pressure of 43 PSI, 13.5v at the pump, 6.2 lbs/gal with a BSFC of 0.65. Boost fuel pressure is assumed to be the base pressure of 43 PSI + boost pressure. Flow capability for horsepower support is ultimately dependent on fuel hose diameter, and system electrical voltage and amperage capabilities.
Note:
Your vehicle's factory fuel pump wiring may not be adequate enough to handle the current draw of AEM's High Flow Fuel Pump. Please refer to the Electrical Requirements section in the instructions document for proper wiring. You can download a copy of the instructions below.
Although AEM's High Flow Fuel Pumps are the same physical size as many OEM fuel pumps, they may not be appropriate for a specific application. You can consult the Vehicle Search function on our website to see whether a pump is recommended for your vehicle. The Vehicle Search function should be used as a reference only. It is imperative that you check the fuel pump sizing for your vehicle before purchasing an AEM High Flow Fuel Pump.
AEM does not condone or approve of the modification of a tank to accommodate a High Flow Fuel Pump and cannot guarantee the pump's performance or operation if any modifications are made.performance or operation if any modifications are made.
AEM Instruction Manual & Tech Sheet
DROP SHIPS FROM MANUFACTURER
Image(s) shown for illustration purposes and may not reflect actual vehicle model.