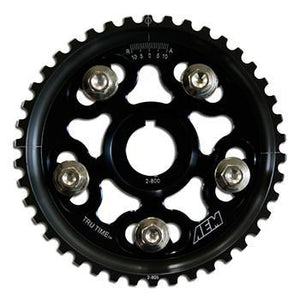 AEM Tru-Time Cam Gear - H22A / 92-01 Prelude VTEC
Regular price $109.17 Sale
AEM Tru-Time Adjustable Cam Gear is used by top racing teams across the country and are a must for engines that are milled, forced induction, high compression and/or utilizing aftermarket competition cams.

AEM cam gear's enable users to match cam timing with their vehicle's tuning state by advancing or retarding the cam profile in one-degree increments via true laser-etched markings. Precision-cut gear teeth ensure no premature wearing of the belt surface and AEM's anodizing on the gear teeth is lab tested and proven to be the hardest anodizing process on the market.
Engine application: All H-series VTEC variants,  F20B, 93-01 Prelude VTEC models.

Sold individually (qty. 1 cam gear). Must buy quantity x 2 for DOHC.
DROP SHIPS FROM MANUFACTURER
Image(s) shown for illustration purposes and may not reflect actual vehicle model.