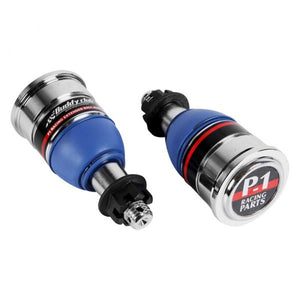 Buddy Club P1 Racing Extended Ball Joints - 92/00 Civic - 94/01 Integra
Regular price $175.75 Sale
The Buddy Club P1 Racing Extended Ball Joint is manufactured with superb quality and craftsmanship. The ball joint dust boots are sturdy and snug and will withstand heat and the rigors of racing much better than your factory dust boots. The included castle nuts are strong and will not strip. The Buddy Club P1 Racing extended ball joints help return the suspension geometry to its ideal position while still allowing you to lower your cars center of gravity. Furthermore, they maximize vehicle tire grip by allowing increased front camber adjustability.

Sold in pairs and are a direct replacement of factory ball joints.
Fitment 
92-95 Civic
92-97 Delsol
96-00 Civic
94-01 Integra
Note: Vehicle height will need to be readjusted (raised up approx. 1") once these RCA's are installed. Take note of vehicle height BEFORE installation.
DROP SHIPS FROM MANUFACTURER
Image(s) shown for illustration purposes and may not reflect actual vehicle model.