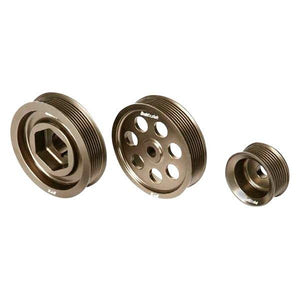 Buddy Club P1 Racing Super Lightweight Pulley Kit - S2000
Regular price $360.00 Sale
Buddy Club has just released their new P1 Racing Crank Pulley Kit for the S2000 engines. By reducing rotational mass and adjusting the pulley size ratio this kit offers improved acceleration, quicker throttle response, and has been shown to free up an additional 8 HP and 7 ft-lb of torque in some race applications. The P1 Racing kit includes a Crank, Alternator, and Power steering/Idler pulleys. Each kit is paired witha high quality 7-rib replacement belt. Pulleys are available individually as well as in pulley sets. Installation can be done by a knowledgeable do it yourselfer, but as always, Buddy Club strongly recommends a professional installation.
Factory Pulley: Alternator = 320g, Crank = 1985g, Water Pump = 525g.
Buddy Club Pulley: Alternator = 115g, Crank = 360g, Water Pump = 310g.
Factory belt can be reused.

Note 1:
 It is recommended to replace with a new factory serpentine belt 38920-PCX-024.
Note 2:
 This pulley kit is designed and intended for motorsport applications. Running the air conditioner and headlights at idle can cause an insufficient battery charge.