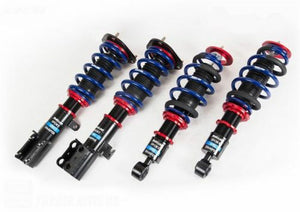 Buddy Club Sport Spec Coilovers - Honda / Acura
Regular price $1,235.00 Sale
BuddyClub's new hybrid Sport Spec coilovers uses a larger size damper for better ride quality. The single tube design of the Buddy Club Sport Spec Damper allows for use of a larger piston than other designs, this allows for better handling and a smoother ride. ​ The inner pistons of Buddy Club Sport Spec Dampers are precision machined to the tightest tolerances possible to prevent unnecessary noise and vibration. Within normal operating range, simply use the spanner wrenches (provided in the damper kit) to adjust the lower bracket of the damper to your desired vehicle ride height, without sacrificing comfort or performance. Inverted Designed Dampers for MacPherson Strut equipped cars allow for a larger piston and more fluid movement than conventional designed dampers adapted for Macpherson use.
All Sport Spec Dampers have 21 levels of damping and rebound adjustability. By simply turning the knob on the damper, you can adjust the damping and rebound settings to accommodate your own driving style. The Sport Spec's Teflon Coated Spring Seats reduce the noise from spring movement that is often an issue with many other makes of coilovers.
Features
Brand new damper design, utilizing precision machined inner piston and tube; to insure amazing ride quality, performance, and damper life span
21-way adjustability of damping and rebound, along with separate ride height and preload adjustments, allow for precise damper tuning to any driver's specs
Newly designed top hats, bump stops and shock boots. This new design provides longer life to not only the components themselves, but also helps decrease wear on the damper
Japanese made, high tensile steel springs are made to the highest quality standards possible and with progressive springs (available on certain applications), offer the perfect mix of comfort and performance
All of the Sport Spec Damper's components go through a special anti- corrosion coating process, that not only works great but looks great too
Dampers cartridges are rebuildable / replaceable
1 Year warranty
See pull down menu for available vehicle applications.
Spring Rate specs:
92-95 Civic 

(fr:11k/rr:7k)

96-00 Civic 

(fr:11k/rr:7k)

06-11 Civic Si (fr:11k/rr:7k)
12-14 Civic 

(fr:7k/rr:3.7k)

00-09 S2000 

(fr:11k/rr:7k)

New vehicle applications February 2017:
90-93 Integra, 97-01 Integra Type-R, 16+ Civic.
New vehicle applications July 2016:
12-13 Civic Si, 12-15 Civic Non-Si, 00-09 S2000, 04-08 TSX, 15+ Fit, 08-12 Accord.
Images used for illustration purposes. Product will vary per vehicle application.