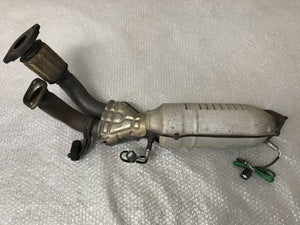 Honda Integra Type R DC5 OEM Header 4-2-1 w/ Catalyst
Regular price $299.99 Sale
This is your chance to get a great deal on this complete setup! This used OEM Header is in great condition! and ships directly from Japan.
This style header has a catalytic converter so you will pass emissions while retaining those gains you are looking for in a header.
Note: Sample unit shown in pictures, We will send in a similar condition unit. Sensors not included.
Included
Fitment
2002/06 Acura RSX Type S (Equipped w/ EM2 Sway Bar)
OPTIONAL: If you need brand new gaskets, Please select YES or NO on the drop down menu.
New Gaskets: 2 Upper Gaskets & 1 Lower Gasket (DOES NOT INCLUDE MANIFOLD BLOCK GASKET)
Header Hardware (Bolts, Nuts, Spring Bolts)
NOTE: You may need to upgrade your sway bar to a JDM style sway bar in order to clear it. Picture displayed may not look the same as the one sent to you but similar in condition.
SPECIAL ORDER
WILL SHIP AS SOON AS POSSIBLE