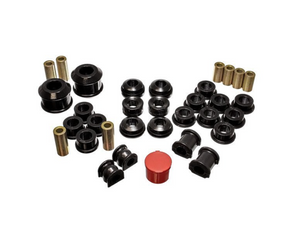 Energy Suspension HyperFlex Master Kit - Honda / Acura
Regular price $145.01 Sale
Energy's complete Master Sets, both restores worn mounts and bushings as well as adds a dramatically higher degree of performance to any vehicle. The Master Bushing Set offers complete coverage front to back of the vehicle's chassis. Energy's special formula HYPER-FLEX performance polyurethane components, which is higher durometer (firmness) material and re-engineered performance minded components, assures long-lasting performance in all sets. Performance many O.E.M. bushings and mounts just can't offer. For cars on the street and weekend racers (both front and rear wheel drive), yet so good–successfully used in pro racing!
Kit includes replacement poly bushing components:
front upper & lower control arm bushings
rear trailing arm bushings (

only included w/96-00 civic kits

)
compliance bushings
front spring top hat bushings
shift lever bushings (manual transmission)
steering rack bushings
front and rear swaybar bushings
front & rear spring isolators
ball joint end boots
tie rod end boots
Available in red or black urethane color.
See available vehicle applications in pull down menu.

Photos used for illustration purposes. Kit contents may vary.

Disclaimer: Kit contents may vary per vehicle application and may or may not include everything listed above.