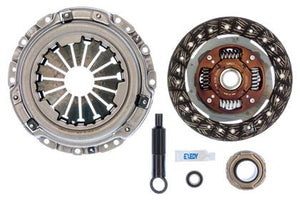 Exedy Stage 1 Organic Clutch Kit - 90-91 Integra (Cable Trans)
Regular price $385.10 Sale
EXEDY Stage 1 Organic Racing Clutches only use premium friction materials that are resistant to slippage and burst. Increased clamp loads give the necessary capacity to handle modified engines. This is the ideal clutch for street and light horsepower track use. Drivability is similar to the stock clutch. Pedal efforts will be slightly higher because of the higher clamp loads. All of Exedy Stage 1 clutch discs have spring center dampers to reduce drivetrain shock and provide smooth clutch engagement.
This clutch kit is great for those who do not want harsh clutch characteristics, but wants a clutch that holds more power than stock for a lightly modified car with more toque capacity.
All EXEDY Racing Stage 1 Organic Clutch Kits carry SFI 1.1 Certification. Which means, when you buy these products, you can be confident they are certified for use in competitive motorsports.
Kit Contents
Exedy pressure plate
Exedy organic sport clutch disc
Alignment tool, pilot bearing, release bearing
SFI 1.1 certified clutch kit

Vehicle/Engine application: 90-91 Integra B-series cable transmission.
DROP SHIPS FROM MANUFACTURER
Image(s) shown for illustration purposes and may not reflect actual vehicle model.