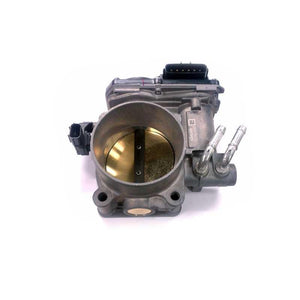 Honda/Acura J37 Throttle Body (DBW) - ZDX / MDX / 06-15 Civic Si
Regular price $399.99 Sale
This OEM throttle body is from the Honda J37 V6 engine (found on the Acura ZDX & MDX). It has been found to be compatible big bore throttle body upgrade for the 8th & 9th gen Civic Si engines (K20Z3 / K24Z7) with the appropriate adapter plate.

The larger inlet allows more air into the engine thus allowing more power to be delivered. This works great with a 3.5 inch intake system and helps take advantage of the the larger intakes which are known for producing more power on the k20z3 / K24Z7 engine platforms.

This throttle body has been known to show gains on both naturally aspirated and boosted applications. The over size also provides better throttle response with less pedal effort.

Not only do you get OEM reliability with this factory throttle body but the price point is extremely affordable as well compared to aftermarket drive-by-wire throttle bodies on the market.
NOTE: A 'ZDX / J37' throttle body adapter plate and match porting is required as well as tuning is required to realize full potential of this throttle body; especially if you are planning to upgrade to a 3.5" intake system such as a Hybrid Racing or Skunk2 8th or 9th gen civic Si cold air intake system (or larger) via Hondata Flashpro and dyno tuner.
78mm inlet tapers down to 70mm outlet.

Condition
Estimated Shipping Within 2 Weeks!