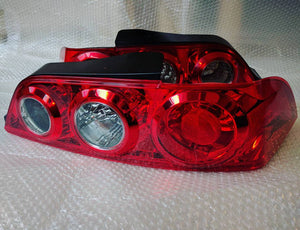 Honda Integra Type R DC5 OEM Tail Lights (BRAND NEW) - LIMITED UNITS IN STOCK
Regular price $989.99 Sale
Brand New set of Type R taillights, they are imported directly from Japan. Give your DC5 the Type R touch it deserves, subtle change will make your DC5 stand out from the rest.

RECOMMENDED:
Install new our gaskets before installing these brand new lights to avoid any water damage. The OEM gaskets eventually will get dry and let water into your tail lights. Our Gaskets are available in the store, HERE (NOT INCLUDED WITH SALE)
Fitment
2005/06 Acura RSX Type S & Base Models
2004/06 Honda Integra Type R
SPECIAL ORDER
WILL SHIP AS SOON AS POSSIBLE
SPECIAL NOTE
LIMITED UNITS LEFT AVAILABLE FROM
HONDA OF JAPAN
RECENTLY DISCONTINUED SO
GRAB THEM BEFORE IT'S TOO LATE!