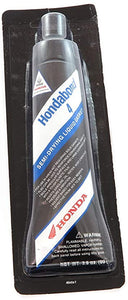 Hondabond 4 Semi-Drying Sealant Liquid Gasket
Genuine Hondabond 4 semi-drying liquid gasket sealant. Remember to clean the part / bolt thoroughly before applying liquid gasket. Apply it as thinly and evenly as possible using a brush or putty knife. This really matters, it can make the difference between the sealant working or not working. If you do a nice neat job, it will seal and last. Wait one minute after applying the liquid gasket, then join the two surfaces.
For use in areas not requiring solid gaskets
Also can be used to reinforce conventional gaskets
Seals irregular surfaces and large clearance areas with a tough elastic film
Resists gasoline, oil, water and most chemicals
Resists pressure and vibration
Solvent based for easy removal
Effective from 40 degrees F to 300 degrees F
3.5 oz. (99 grams)
Condition
Includes
Estimated Shipping Within 2 Weeks!