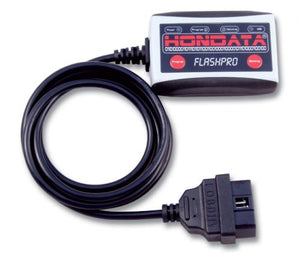 Hondata Flashpro CARB - 2018+ US Accord 2.0 Turbo
Regular price $595.00 Sale
The FlashPro allows datalogging and tuning for your 2018 + 2.0 Turbo Accord. It includes Windows based software called FlashProManager. FlashPro CARB is a FlashPro which only allows uploads from calibrations which are determined to not alter the any emissions related parameters in the ECU thus not affecting emissions. California emissions compliant (CARB EO D-742-1), which allows this product to be used on street vehicles within the USA.
The FlashPro connects from your laptop's USB port to your vehicles diagnostic port to provide 90 second programming with a variety of calibrations with extensive real time and stored datalogging capabilities.
The FlashPro does not need the factory ECU to be modified to be compatible. FlashPro is locked to one vehicle. It can be unlocked and transferred to another vehicle by returning the ECU to stock. 
The FlashPro CARB cannot be converted to a FlashPro Race.
This FlashPro CARB allows tuning of all parameters except those associated with emissions.  For turbo vehicles, torque and boost settings can be tuned. For competition vehicles we recommend the  FP-ACRD-US FlashPro RACE as that FlashPro allows fuel and ignition tuning (CLICK HERE).
Features
US/Canada based FlashPro for 2018+ Accord 2.0T / K20C
Compatible with AT & MT models
Programmable ECU interface
Connects via OBDII diagnostic port
USB 2.0 connection
Works with Laptop or Desktop
No ECU modification necessary
20 hours on board

 

datalogging

 

memory
FlashProManager

 

Windows software
Apple/Mac users can run a virtual version of windows 7 or newer
Check and clear

 

diagnostic codes
Dual calibration storage

 

- upload from one of two calibrations stored in the FlashPro
Accord Tuning Features
Boost
VTEC window
Rev, launch and speed limiters
Map tracing  & lambda overlay
Vehicle Application: US/Canada 2018+ Accord 2.0T (K20C4)