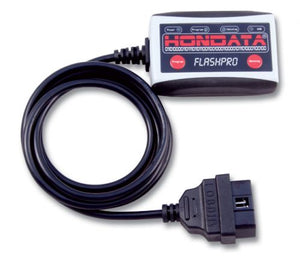 Hondata Flashpro Race - Honda / Acura
Regular price $795.00 Sale
The FlashPro RACE allows datalogging and full user tuning for late model Honda and Acura vehicles. It includes Windows based software called FlashPro Manager. 
The FlashPro connects from your laptop's USB port to your vehicles diagnostic OBD-II port to provide 90 second programming with a variety of calibrations with extensive real time and stored datalogging capabilities.
The FlashPro RACE does not need the factory ECU to be modified to be compatible. FlashPro is locked to one vehicle. It can be unlocked and transferred to another vehicle by returning the ECU to stock. FlashPro does not allow the Immobilizer system to be disabled
For emissions compliant FlashPro (CARB) - CLICK HERE
FlashPro features
Programmable ECU interface
Connects via OBDII diagnostic port
USB 2.0 connection
Bluetooth support
Works with Laptop or Desktop
No ECU modification necessary
20 hours on board

 

datalogging

 

memory
90 second ECU programming time
FlashPro Manger

 

Windows software
Check and clear

 

diagnostic codes (DTC's)
Dual calibration storage

 

- upload from one of two calibrations stored in the FlashPro
Vehicle Applications:
06-11 Civic Si
12-15 Civic Si 
12-15 Non-Si R18 (MT/AT/CVT)
16+ Civic Turbo 1.5L / 2017+ Civic Si
12-14 ILX (MT)
07-08 Fit (MT/AT)
10-12 CR-Z (MT/CVT)
13-15 Accord V6 & 4cyl (MT/AT)
2018+ Accord 1.5T & 2.0T
04-06 TSX (MT/AT)
*Note: 07-08 TSX ECU required & adapter cable.

 

Instructions
07-14 TSX (MT/AT)
06-09 S2000
07-12 RDX
07-08 TL / TL Type-S (MT/AT)
This is a Race Only product that is to be used solely for competition. It cannot be used on vehicles that are operated on public streets, roads or highways. Its use is limited to closed-course and open-course racing that is formally sanctioned by a recognized racing organization. Any other use, including recreational off-road use, could be in violation of local, state and federal laws.