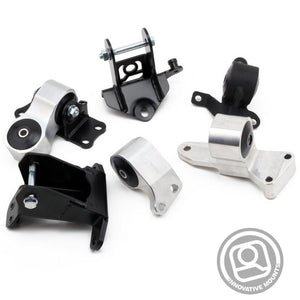 Innovative Mounts Billet Engine Mount Kit - 06/11 Civic Si / FD2 Type R
Regular price $549.99 Sale
Designed to fit the first gen. Honda S2000 AP1/AP2 chassis with F-Series motors & manual transmission.

Also Available:
00-09 S2000 Billet Replacement Mount Kit - B90750
Innovative billet replacement mount kit for the 06-11 Civic Si (FA/FD/FG/FN).
Designed to fit the Civic FA5/FD2/FG2/FN2 chassis with K-series engines and manual transmission.  Does NOT fit K24 (Accord/TSX/Euro R)  transmissions.
Features
Includes steel front mount
Unique No-Tear Vibration Minimizing Bushings
Hardware Included
CAD/CAM Designed
Stress Analyzed
Lifetime warranty
Optional bushing urethane stiffness.
Vehicle applications: 06-11 Civic Si coupe & sedan, 06-10 JDM Civic Type-R (FD2) and Euro Civic Type-R (FN2).

Weight: 22lbs
So how do you choose what stiffness you need for your application? The options available are as follows:
75A Street – Street bushings are recommended to 80% of our customers. This is the most popular street bushing that combines durability with a high level of comfort.
85A Track - Track bushings should be used in cars that see the track more than the street, or cars that have a significant increase in horsepower.
95A Extreme  - Extreme bushings should be used in racing cars only. These are near solid and offer minimal engine movement.