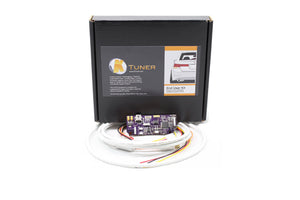 KTuner ECU R1 End User Board - Honda / Acura
Regular price $450.00 Sale
This is the all-new KTuner Revision 1 End-User board tuning system for use with K series engines. It allows engine tuning of K series engines by any end-user. The KTuner End-User board system consists of a circuit board that will need to be installed onto your ECU along with software for use with this board. The system is tunable via laptop with a simple USB cable connection. This will allow you to reprogram your ECU for performance gains and to get the most from your engine modifications.

Note: ECU is NOT included
(Warranty voided if not installed by Ktuner or an Authorized Ktuner Dealer)
KTuner In-ECU End User board comes with a single KTuner hardware unit paired with a single user license for the downloadable KTuner software.
Ktuner R1 Features
Each unit is locked to one ECU and allows you to alter the settings in your ECU
Full reading, reflashing, and datalogging
On Board Logging (8MB) – RSX/Swap and Accord/TSX only as of 1/10/16
Direct Flex Fuel input for ethanol content and temperature. RSX/Swap only as of 1/10/16
Four (4) Analog inputs for 0-5 volt sensor signals. – All platforms
Two (2) Speed inputs for VR or HALL sensors. – All platforms
Peripheral port for Bluetooth, LCD displays, and additional add-ons
KTuner uses direct USB connectivity for fast data transfers
On Board Logging. This means you can change the logging rate without erasing on board logging data or reflashing the ECU. The activation settings do require a reflash of the ECU. The activation window includes the option for a required input and the input can be ignored for deactivation.
Additional Analog Inputs. Four analog inputs have been added that are directly fed to the ECU and can be configured to manipulate ECU functionality. More features will be released by KTuner using this technology soon.
Direct Flex Fuel Sensor Support. Direct Flex Fuel/E85 sensor support to take advantage of not only ethanol content, but fuel temperature as well.
Speed Inputs. Two new speed inputs have been added, VR or HALL, which can be configured and monitored. Traction control for non-driven wheel speed vs. driven wheel speed currently in testing and will be offered soon as a free software update.
Peripheral Port. The peripheral port adds the ability to communicate with TunerView displays and Bluetooth modules that can be used with the TunerView Android App, and future add-on technology. Want Bluetooth? Select "add Bluetooth" from the drop-down menu above and we will include the new Bluetooth module!
Multiple engine base/start up maps are included with the KTuner software to choose from and to begin with.
KTuner R1 ECU Supported Vehicle Applications:
(links provided for explicit ECU details)
*For K-series swapped vehicles, KTuner utilizes the 05-06 Honda/Acura ECU's. If you are using an 02-04 RSX engine harness and 02-04 K-swap adapter harness, you will need a KTuner 02-04-to-05-06 ECU adapter harness, available separately.
This is a Race Only product that is to be used solely for competition. It cannot be used on vehicles that are operated on public streets, roads or highways. Its use is limited to closed-course and open-course racing that is formally sanctioned by a recognized racing organization. Any other use, including recreational off-road use, could be in violation of local, state and federal laws.
DROP SHIPS FROM MANUFACTURER
Image(s) shown for illustration purposes and may not reflect actual vehicle model.