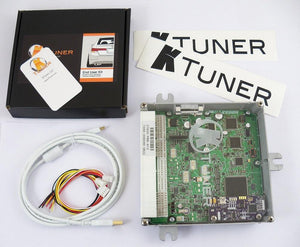 KTuner ECU R1 Tuner Package - Acura RSX Type S & K-Swap
Regular price $949.99 $849.99 Sale
This is a complete KTuner Rev1 board pre-installed onto an 05-06 Acura RSX Type-S "PRB" ECU. This will allow simple plug-and-play use. Requires no core, this is a complete out-right purchase of a 05-06 PRB ECU and KTuner end-user system pre-installed and ready to use.
KTuner ECU hardware end user tuning package comes with a single KTuner hardware unit paired with a single user license for the downloadable KTuner software.
Requirements
Laptop running Windows XP or newer version of Windows
Internet connection to register your KTuner ECU upon first upload (requires to register an account on KTuner website) 
Kit Contents
05-06 Acura Type-S PRB ECU (KTuner prepared w/surface mount sockets)
Pre-installed KTuner Revision 1 end-user board
USB cable
Analog input harness
KTuner software - can also be downloaded from

 

HERE
KTuner Tuning Features
Plug-n-play into 05-06 RSX Type-S without any wiring changes


ECU circuit board is socketed to accept the KTuner end user board system

Each unit is locked to one ECU and allows you to alter the settings in your ECU
Full reading, reflashing, and datalogging
On Board Logging (8MB) – RSX/Swap and Accord/TSX only as of 1/10/16
Direct Flex Fuel input for ethanol content and temperature. RSX/Swap only as of 1/10/16
Four (4) Analog inputs for 0-5 volt sensor signals. – All platforms
Two (2) Speed inputs for VR or HALL sensors. – All platforms
Peripheral port for Bluetooth, LCD displays, and additional add-ons
KTuner uses direct USB connectivity for fast data transfers

Real-Time Tuning

Adjust for aftermarket injectors, injector sizing

Ignition and Fuel tables tuning

VTEC tuning

VTEC window control

Knock tuning

Adjustable rev-limiter

Adjustable 2-step/ launch control

Anti-lag

Aftermarket MAP sensor support

Expandable tables for boost

PWM boost control for use with electronic boost control solenoid

Boost cut

Closed loop control

Disable sensors and OBD2 monitors

Disable immobilizer

6 programmable outputs (nitrous control, etc)

No core required!
Vehicle Applications
02-04 RSX Type-S: 02-04 to 05-06

 

adapter harness required
05-06 RSX Type-S: direct plug-n-play affair (no adapter harness required)
*K-swapped vehicles (88-00 Civic/CRX, 90-01 Integra) using an 05-06 engine harness.
*For K-series swapped vehicles, KTuner utilizes the 05-06 Honda/Acura ECU's. If you are using an 02-04 RSX engine harness and 02-04 K-swap adapter harness, you will need a KTuner 02-04 to 05-06 ECU adapter harness, available separately.
This is a Race Only product that is to be used solely for competition. It cannot be used on vehicles that are operated on public streets, roads or highways. Its use is limited to closed-course and open-course racing that is formally sanctioned by a recognized racing organization. Any other use, including recreational off-road use, could be in violation of local, state and federal laws.
DROP SHIPS FROM MANUFACTURER
ON NATIONAL BACKORDER 
ORDER TO RESERVE A SPOT!
Image(s) shown for illustration purposes and may not reflect actual vehicle model.