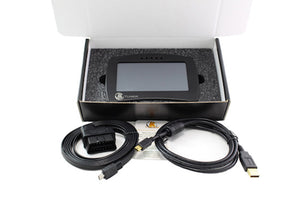 KTuner Flash V2 Touch - 2017+ Civic Type R (FK8)
Regular price $890.00 Sale
The KTuner Flash V2 end-user tuning package comes with a single KTunerFlash V2 hardware unit paired with a single user license for the downloadable KTuner software.
5″ Touch Screen Display
Real-Time data display with multiple layouts
Easy to navigate menu system for settings
Store multiple tunes, including factory. Flash without the need for a laptop
On Board Logging, record datalogs without the need for a laptop
5 Programmable LEDs (RGB) for shift lights, warnings, etc
Bluetooth connectivity for peripherals and the

 

TunerView Android app
This unit is locked to one ECU and allows you to alter the settings in your ECU
Return to factory at any time and unlock the unit to resell
This allows datalogging and reflashing right over your factory OBD2 port! (J2534 OBD Interface)
Extended data parameters available on certain vehicles
Diagnose any Honda/Acura CAN vehicle, even when already locked to a vehicle
KTuner uses USB connectivity for fast data transfers
Vehicle application: 2017+ North America Civic Type-R (click for KTuner details)

CTR ECU PREREQUISITES:
Your factory FK8 CTR ECU MUST BE UNLOCKED BY KTUNER before it can be properly used with a V2 Touch. The posted sale price includes unlocking.
You must schedule unlocking directly with K-Tuner by emailing INFO@KTUNER.COM.

 

You cannot send your ECU to KTUNER unless a scheduled confirmation has been made first.
Fill out the KTUNER Type-R ECU form

 

HERE once confirmation has been made.
ECU unlocking is a customer's responsibility - not JHPUSA's.
Note: the KTuner Flash V2 Touch does not allow tuning parameter changes or direct tuning, a laptop is required for doing that. The V2 Touch is strictly a monitoring, data logging, and tune storage device. By tune storage device, it's meant that you are able to keep multiple tuned calibration files directly on the Touch. This means you can upload (flash) those various saved tunes to the ECU at any time. Example: if you have two separate tunes -- one for daily driving and one for race purposes -- you can have both tunes saved onto the Touch and flash to either tune when desired.
Interested in other 10th gen Civic & FK8 Civic Type-R parts? Click here.
CTR/FK8 Launch Control (click me)

Dyno results via KTuner.com:

Stage 0 vs. OEM: 20whp/35wtq


This is a Race Only product that is to be used solely for competition. It cannot be used on vehicles that are operated on public streets, roads or highways. Its use is limited to closed-course and open-course racing that is formally sanctioned by a recognized racing organization. Any other use, including recreational off-road use, could be in violation of local, state and federal laws.
DROP SHIPS FROM MANUFACTURER
Image(s) shown for illustration purposes and may not reflect actual vehicle model.