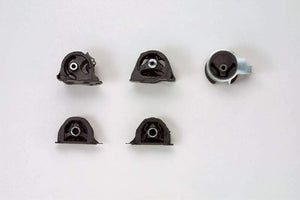 Mugen Engine Mount Set - 94/01 Integra
Regular price $495.00 Sale
Formed in 1973 by Hirotoshi Honda, the son of Honda founder Soichiro Honda, Mugen is recognised around the world as Honda's premium tuning arm, despite not formally being owned by Honda. Offering performance enhancing parts for many Honda vehicles, Mugen is a brand that manufactures top quality parts which aim to improve the experience of the driver.
The Mugen 5-piece engine mount set features increased mounting angle and strengthened rubber. The Mugen engine mounts reduce engine movement at high load for reduced drivetrain losses and potential engine damage.
Features
Reinforced/stiffer rubber than factory mounts
Direct replacement mounts
1 x left side (timing belt side) 3-bolt liquid filled aluminum mount
1 x right side (trans top mount)
1 x rear mount
2 x torque mounts
Also compatible with EG B-series swapped civics using integra/B18C 3-mount post
Condition
DROP SHIPS FROM MANUFACTURER
Image(s) shown for illustration purposes and may not reflect actual vehicle model.