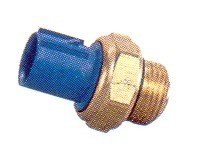 Mugen Fan Switch - B/D/F/K-Series
Regular price $75.00 Sale
Formed in 1973 by Hirotoshi Honda, the son of Honda founder Soichiro Honda, Mugen is recognised around the world as Honda's premium tuning arm, despite not formally being owned by Honda. Offering performance enhancing parts for many Honda vehicles, Mugen is a brand that manufactures top quality parts which aim to improve the experience of the driver.
Activates cooling fan at 80°C instead of the stock 93°C. Requires use of Mugen low-temp thermostat.

Compatible with all B/D/F/K-series engines.

A low-temp thermostat is highly suggested to be used in conjunction with this sensor.
F & H-series note:
This fan switch is also compatible with USDM H-series engines that use 2 fan switch sensors (A + B). For USDM 92-96 H-series (and 94-97 Accord F-series engines), this sensor replaces the OEM fan switch "B" on the cylinder head upper water neck. A low-temp thermostat is highly suggested as well so that all sensors and t-stat are working at the same low-temperature operations.
Condition
DROP SHIPS FROM MANUFACTURER
Image(s) shown for illustration purposes and may not reflect actual vehicle model.