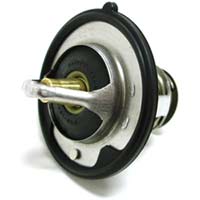 Mugen High Performance Thermostat - K Series (K24Ax)
Regular price $129.00 Sale
Formed in 1973 by Hirotoshi Honda, the son of Honda founder Soichiro Honda, Mugen is recognised around the world as Honda's premium tuning arm, despite not formally being owned by Honda. Offering performance enhancing parts for many Honda vehicles, Mugen is a brand that manufactures top quality parts which aim to improve the experience of the driver.
This thermostat has the operating temperature set lower than normal. It prevents engine power loss by minimizing rapid water-temperature rises under harsh conditions such as during circuit driving.

The use of a flow-control-type valve prevents hunting, thereby achieving rapid stabilization of the water temperature (the engine warms up within a short period). Operating temperature: 68°C (STD.: 76~80°C) Full-throttle acceleration temperature: 81°C (STD.: 90°C)

Note: Will not fit K20Ax engines.

Condition
Fitment
K24Ax Engine Variants (TSX/Accord/CRV/Element
DROP SHIPS FROM MANUFACTURER
Image(s) shown for illustration purposes and may not reflect actual vehicle model.