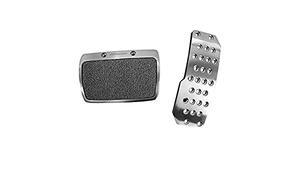 Mugen Sports Pedal Kit (AT)
Regular price $180.00 Sale
Formed in 1973 by Hirotoshi Honda, the son of Honda founder Soichiro Honda, Mugen is recognised around the world as Honda's premium tuning arm, despite not formally being owned by Honda. Offering performance enhancing parts for many Honda vehicles, Mugen is a brand that manufactures top quality parts which aim to improve the experience of the driver.
For sports driving nimble footwork is needed. With the Mugen Sports Pedal Kit the accelerator is made to allow some grip give, while the brake pedal is made with a nickel-chrome blown metal non-slip surface. All the pedals have a cast aluminum base.

Condition
Fitment
97-04 CR-V
07+ Honda Fit
10+ Insight
Insight (2010+)
90-05 NSX
02-06 RSX Base
DROP SHIPS FROM MANUFACTURER
Image(s) shown for illustration purposes and may not reflect actual vehicle model.