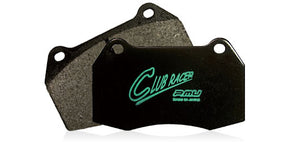 Project Mu Club Racer Rear Brake Pads - Honda / Acura
Regular price $183.66 Sale
Project Mu Club Racer Brake Pads are the new pad from Project-Mu for club racing and rally enthusiasts with seriously fast cars. It is a brake pad that offers the very best in performance, feel and release. This pad really punches above it's weight and will push aside many other over-priced race pads in many race and rally applications.

Project Mu has developed a new brake pad for the race track. The Club Racer Series features a proprietary asbestos free Carbon Metal brake compound capable of withstanding temperatures up to 800 Celcius (+1400 Fahrenheit). According to Project Mu, Drivers will notice excellent pedal feed back and brake modulation, virtually zero brake fade, and consistent stopping power every lap.

Compound: Hyper Carbon
RC Rotor Temp: 300~800℃ Friction: 0.42~0.55μ
Application: Track Day, Rally, Performance Driving, AutoX, Time Attack, Sprint Racing
See pull down for vehicle applications.

DROP SHIPS FROM MANUFACTURER
Image(s) shown for illustration purposes and may not reflect actual vehicle model.