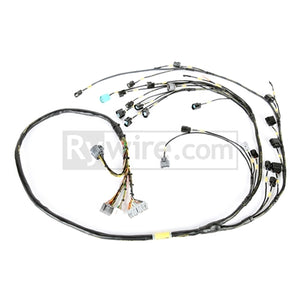 Rywire MIL-SPEC Tucked K-Series Harness Ver. 2 (K2)
Regular price $1,003.00 Sale
The Rywire Version 2 K-series Milspec Engine Harness was created to facilitate a more universal chassis, and harness routing preference. This style can be routed more like the OEM k-series engine harness through the center or more to the right on the firewall than it's Version 1 counterpart. This routing method is ideal for Right Hand Drive customers, however, NOT exclusive to RHD chassis and does work fine on a LHD chassis's. Version 2 is also routed in a way which allows you to get around aggressive exhaust manifolds.
Mil-Spec Harness Features:
This harness offers Mil-Spec Teflon coated wire. Standard wall ethylene-tetrafluoroehtylene (ETFE) insulation ( also known as Tefzel ) designed for aerospace applications where weight, dimensional tolerance, and mechanical durability are required. This wire exhibits high chemical and radiation resistance. using standard factory wire colors with a maximum heat rating of 200°C . The Teflon coated wire is loomed with The highest quality Raychem DR-25 heat shrink covering, and adhesive lined wire junctions to keep moisture out. Each connector is crimped with pneumatic heads to ensure an OEM crimp every time, then tagged with a yellow identification label for easy installation. All heavy interference circuits are protected and grounded with proper wire covering.
Rywire Mil-Spec harnesses are 100% quality tested pin to pin, and resistance checked to ensure no voltage fluctuations. These are the best harnesses money can buy. NO CORE is necessary when buying this harness!
This harness follows an OEM style configuration meaning that you will still need an interior ECU adapter harness for your chassis.
Rywire harnesses are warrantied and guaranteed to work and provide excellent installation phone support and troubleshooting to ensure this reputation for quality -- however they are non-refundable.
Harness Connector List
VTEC solenoid
VTC
Oil pressure sending unit
Crank Sensor (02-04 K20 style)
Coils 1-4
Cam
Top Dead Center sensor (TDC)
Engine Coolant Temp (ECT)(02-04 K20 style)
Knock Sensor (KS)(02-04 K20 style)
Intake Air Temperature (IAT)
Alternator
Manifold Air Pressure (MAP)
Throttle Position Sensor (TPS)
Idle control motor
Electronic speed sensor (VSS)
Injectors 1-4
h20 sending unit (for gauge cluster)
Reverse Lights
Reverse Lockout solenoid
Starter signal
ECU plugs A and B
Power distribution cap
Ground
2 Extra Wires
Vehicle applications: K-swapped RHD/LHD 88-91 Civic/CRX, 92-95 Civic, 92-97 Delsol, 96-00 Civic, 90-01 Integra.
See pull down menu for these Mil-Spec harness options:
Vehicle Speed Sensor (VSS) location: 
02-04 style (rear mounted on transmission near firewall) or 05+ style (mounted on frontside of transmission).
Charge Harness:
1-piece charge harness (connects starter & alternator to the battery).
Fuel Injector Connector/Clip Type:
OEM (rsx/ep/tsx aka NH1/OBD2 clip) or RDX clip.
DROP SHIPS FROM MANUFACTURER
Image(s) shown for illustration purposes and may not reflect actual vehicle model.