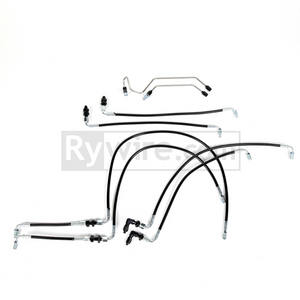 Rywire Proportioning Valve Relocation Kit - Civic / Integra
Regular price $550.00 Sale
The Rywire proportion valve relocation kit is designed to relocate the proportion valve behind the firewall to give a sleek clean look in the engine bay.

This kit has options for hard line or soft line in the engine bay, and only a soft line option behind the firewall. This kit is as easy as it can get to give your brake lines the "tucked" look. The installer only is required to drill holes for the bulkheads, and flare the 2 rear lines.

This kit comes with every part needed for installation. Included is all necessary bulkheads, tube nuts and sleeves, union fittings, and lines. All fittings are black in color and all lines are also black.

Note:  OEM ABS Master Cylinders are not supported for use with this kit. We recommend you get an 88-97 (soft line only) or 98+ non-ABS master cylinder (hard & soft line options available). The reason for this is because the ABS master cylinders uses a larger sized hard line tube nut.

Vehicle Applications:
 
88-91 civic/crx
92-95 civic
96-98 civic
99-00 civic
90-91 integra
92-93 integra
94-01 integra

NOTE: Please list your car model in the comments field during check out.
DROP SHIPS FROM MANUFACTURER
Image(s) shown for illustration purposes and may not reflect actual vehicle model.