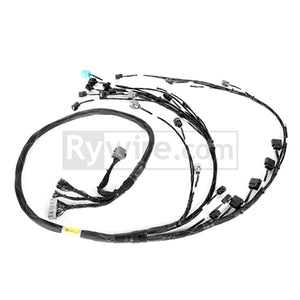 Rywire Tucked K-Series Universal Harness - 88-00 Civic / 90-01 Integra
Regular price $790.00 Sale
Rywire K-series "Version 2" engine harness was created to facilitate a more universal chassis, and harness routing preference. This style can be routed more like the OEM K-series engine harness through the center or more to the right on the firewall than it's Version 1 counterpart. This routing method is ideal for our (RHD) Right Hand Drive customers however NOT exclusive to RHD chassis and does work fine on a LHD chassis. Version 2 is also routed in a way that allows you to get around aggressive headers; However for sidewinder-turbo setups you may have clearance issues with this, which may make Version 1 a better fit.

The Budget K-Series Engine Harness is warrantied and guaranteed to work. Rywire provides excellent installation phone support and troubleshooting to ensure this reputation for quality, however they are non-refundable.

The Budget K-series Version 2 (K2) wire-tuck engine harness is nearly identical to its K2 Mil-spec counterpart with the primary differences being the type of wire used, the single black wire color and expandable loom used. All connectors and materials are new. Each connector is crimped with pneumatic heads to ensure an OEM crimp every time, then tagged with a white identification label for easy installation. All heavy interference circuits are protected and grounded with proper wire covering. Rywire engine harnesses are 100% quality tested pin to pin and resistance checked to ensure no voltage fluctuations. These are the best harnesses money can buy!

This universal K-series engine harness is compatible with all 90-01 Integra's, 88-91 Civic/CRX, 92-00 Civic, 92-97 Delsol, and possibly a few other vehicles excluding 01+ Civic's and 02-06 RSX's.

NO CORE is necessary!

Note:  There are 3 total separate harnesses required for a K-series engine swap:



A conversion ecu adapter harness is required in order to complete the use of this universal adapter harness (see "similar products" at bottom of page to purchase separately).

Charge harness option: The "one piece charge harness" is not included by default but can be added for an additional fee. This feature will integrate the Starter and Alternator wires into the K-series tuck harness.

Universal v2 K-series Engine Harness Connector List:


VTEC solenoid
VTC
Oil pressure sending unit
Crank Sensor
Coils 1-4
Cam Top Dead Center sensor (TDC)
Engine Coolant Temp (ECT)
Knock Sensor (KS)
Intake Air Temperature (IAT)
Alternator
Manifold Air Pressure (MAP)
Throttle Position Sensor (TPS)
Idle control motor
Electronic speed sensor (VSS)

 

*

Injectors 1-4
H20 sending unit (for gauge cluster)
Reverse Lights
Reverse Lockout solenoid
Starter signal
ECU plugs A and B
Power distribution cap
Ground
2 Extra Wires

IMPORTANT!
Please note that your K-series transmission's Vehicle Speed Sensor (VSS) mount location is very important!

Please find out which VSS mounted location you have before ordering.


02-04 K-series transmissions (JDM & US) have a rear mounted mechanical VSS, located on the rear upper section of the transmission casing (similar to a D/B-series transmission).
05+ K-series transmissions have a small frontal mounted VSS, located on the front side of transmission casing.
DROP SHIPS FROM MANUFACTURER
Image(s) shown for illustration purposes and may not reflect actual vehicle model.