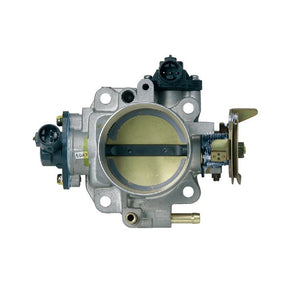 Spoon Sports Big Venturi 70mm Throttle Body - 00/05 S2000
Regular price $1,195.00 Sale
Spoon used numerical control machining to increase the opening for the throttle, while increasing the flow-pass area by 16%. Accordingly, peak power is increased by a approximately 6HP. Spoon took a second look the previous throttle body and repeated the test to develop the Venturi Big Throttle Body as the product where a higher effect is obtained. The throttle body increases charging efficiency inside the throttle body with a venturi effect. In addition, the surface is diamond cut for a smooth finish for decreased inhalation resistance. The throttle body opening is increased from 67φ to 70φ and the butterfly opening is increased from 62φ to 65φ. Furthermore, the 65mm large diameter butterfly is used with an elliptic form and oblique section. Throttle body diameter is .3mm larger than the intake manifold so matching can be completed. OEM MAP and EACV sensors need to be re-used. Gasket is included.
Fitment
00-05 S2000 (DOES NOT FIT DBW STYLE TBs)
FOR RACING / OFFROAD USE ONLY!
DROP SHIPS FROM MANUFACTURER
Image(s) shown for illustration purposes and may not reflect actual vehicle model.