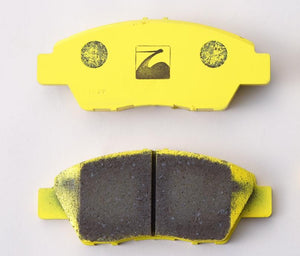 Spoon Sports Front Brake Pads - Civic / Integra Type R
Regular price $290.00 Sale
The Spoon Sports front brake pads set are Non-Asbestos type and are a great upgrade for your Honda. These brake pads will be a perfect match for your Spoon calipers and brake rotors.
Features
Improved Fade character utilizing anti evaporation materials
Improved effect and Feel.
High durability.
Gentle on the brake rotors.
Average friction (U): 0.3~0.5
Temperature region: 50~700C
These features have been achieved by combining various materials in the pad. Providing loads of stopping power and excellent control to use negative inertia Gs caused in the breaking, for cornering power. A proper temperature of the rotor can obtain the best negative Gs, providing confidence on the street, and in the race.
Set Includes 4 x brake pads (2 pads per side)

Fitment

97-01 Integra Type-R (all US, JDM 98-01 Integra-R)
96-00 Civic Type-R
SPECIAL ORDER
DROP SHIPS FROM MANUFACTURER
Image(s) shown for illustration purposes and may not reflect actual vehicle model.