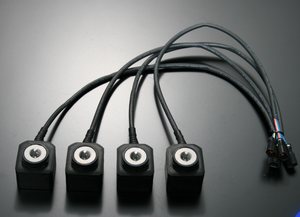 Tein EDFC Motor Kit - Honda / Acura
Regular price $165.00 Sale
These Tein EDFC Motors attach to the adjustment knobs on your compatible Tein coilovers and allow you to adjust the damping rate from inside of your vehicle. This is especially useful for those who require different rates for a variety of driving. For example, the softest possible setting for your neighborhood streets that are poorly maintained. Maybe a slightly stiffer setting for the freeway which is mostly smooth. Then, if you track the vehicle have a full race setting that you wouldn't dare use on the street.
Features
Sealed rubber motor cover for improved protection
Decreased stepping motor size for use on more applications
Complete harness with female/ male connectors
Extended wiring harness for ease of installation Includes:4x Stepping Motors
Vehicle Compatibility 
*Please check Tein website for vehicle compatibility  
Tein EDFC II - Click Here 
Tein EDFC Active - Click Here
Tein EDFC Active Pro - Click Here
DROP SHIPS FROM MANUFACTURER
Image(s) shown for illustration purposes and may not reflect actual vehicle model.