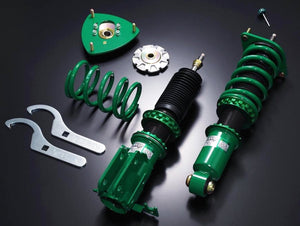 Tein Flex A Coilover - 17+ Civic Type R (FK8)
Regular price $1,490.00 Sale
FLEX A coilovers are equipped with new "Hydraulic Bump Stopper (H.B.S.)" feature which has been tested and proven effective in the world's harshest motorsports including World Rally Championship and European Rally Championship. When a lowered vehicle goes over big bumps, urethane or rubber bump stopper often causes a big upward jolt and/or rebound and can disturb controllability. On FLEX A, H.B.S., mounted inside the shock absorber, effectively generates damping force near and/or at full-bump, to absorb big impact smoothly. Comfortable ride in vehicles even at full occupancy will revolutionize the industry.
Features
Camber adjustable pillow ball upper mounts on the front and reinforced rubber upper mounts on rear

New Hydraulic Bump Stopper (H.B.S.) for comfortable ride in ALL seats!




Twin-Tube system for comfortable ride on the streets

 




Full-Length system for ride height adjustment w/minimal change in ride




Damping force adjustable to change ride to desired settings

 




Compatible with EDFC Series to enable In-Car damping force adjustment

 

Upper mounts included for easy installation

 




Highly durable & reliable

 




Thoroughgoing rust-proofing

 




Highly-rigid bracket & shell case

 




Smooth ride height adjustment & one of a kind adjusting wrench

 




No-sag springs

 




High-spec damper oil

 




Available for overhaul & revalving (through Tein USA)

One Year Warranty Against Manufacturer's Defects
Fitment
DROP SHIPS FROM MANUFACTURER
Image(s) shown for illustration purposes and may not reflect actual vehicle model.