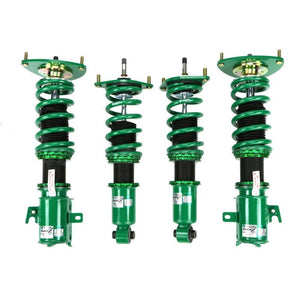 Tein Flex Z Coilover - Honda / Acura
Regular price $860.00 Sale
The Tein FLEX Z coilovers are a new affordably priced, non-rebuildable, version of the popular STREET FLEX coilovers

Tein was able to bring cost down on the new FLEX Z dampers by making them fully sealed units (non-rebuildable). The biggest benefit to a fully sealed non-rebuildable damper, other than the extremely affordable price, is a maintenance free damper. Although, we strongly recommend periodical inspection of external components such as the seat locks, spring seats, dust boots, and bump stops. Instead of rebuilding the damper, or if a damper fails several years down the line, single replacement dampers can be purchased to minimize downtime.
Features
16-way damping force adjustment using ADVANCE NEEDLE technology which provides a much wider range of damping force adjustment per click

Ride height adjustment with separate spring preload settings

Steel Construction

Proprietary ZT coated damper bodies and 2-layer powdercoating for lower brackets and upper mounts.

Thread type ride height adjustment
Twin Tube structure
Upper mounts included
Highly durable and reliable
Optimal dust boot
No-sag spring
High performance damper oil
Corrosion resistant powder coated damper body 
EDFC compatible
Available for Overhaul / replacement service
DROP SHIPS FROM MANUFACTURER
Image(s) shown for illustration purposes and may not reflect actual vehicle model.