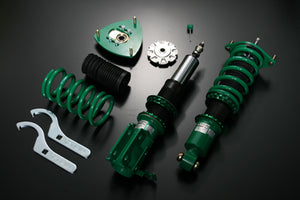 Tein Mono Sport Damper Coilover - Honda / Acura
Regular price $1,494.00 Sale
The main concept of Tein MONO SPORT is to provide driving pleasures to all drivers. All the different needs and demands are carefully analyzed to come up with the most suitable settings for each and every vehicle models. 
For cars often running on circuit, the settings are focused more on sport driving. MONO SPORT offers not only the precise steering feel that strongly appeals to sport-minded drivers, but also the flexible movement. MONO SPORT is set up to let the drivers enjoy the runs on circuits and/or winding roads and everyday driving on streets with the damping force adjusted. 
For cars requiring comfortable ride more than anything, touring settings are applied to provide and maintain the finest ride comfort which are often lost when the vehicle is lowered and/or larger tires/wheels are used. MONO SPORT offers the finest and most comfortable ride feel that makes even a long-distance driving seem like a breeze.
Features
Full-Length ride height adjustment feature
Mono-tube structure
Damping Force Adjustment System
Complete kit with upper mounts
Well-Thought Settings to Meet Different Needs for Different Vehicle Models!
Mono-Tube Structure to Deliver Rich Information from Road Surface!
Full-Length System for Ride Height Adjustment w/ Minimal Change in Ride!
Newly-Designed Upright Strong Tube for Strut Type Suspensions!
16-level Damping Force Adjustment + ADVANCE M.S.V.!
Compatible with EDFC Series to enable In-Car Damping Force Adjustment!
Upper Mounts Included for Easy Installation!
Highly Durable & Reliable!
Thoroughgoing Rust-Proofing!
Highly-Rigid Bracket & Shell Case!
Smooth Ride Height Adjustment & One-of-A-Kind Adjusting Wrench!
No-Sag Springs!
High-Spec Damper Oil!
Available for Overhaul & Revalving
DROP SHIPS FROM MANUFACTURER
Image(s) shown for illustration purposes and may not reflect actual vehicle model.